Adjust and modify your production with Mapvision Editor Suite
Mapvision Editor Suite allows operators, quality managers and other dedicated Mapvision Q users to program the system at the production site.
---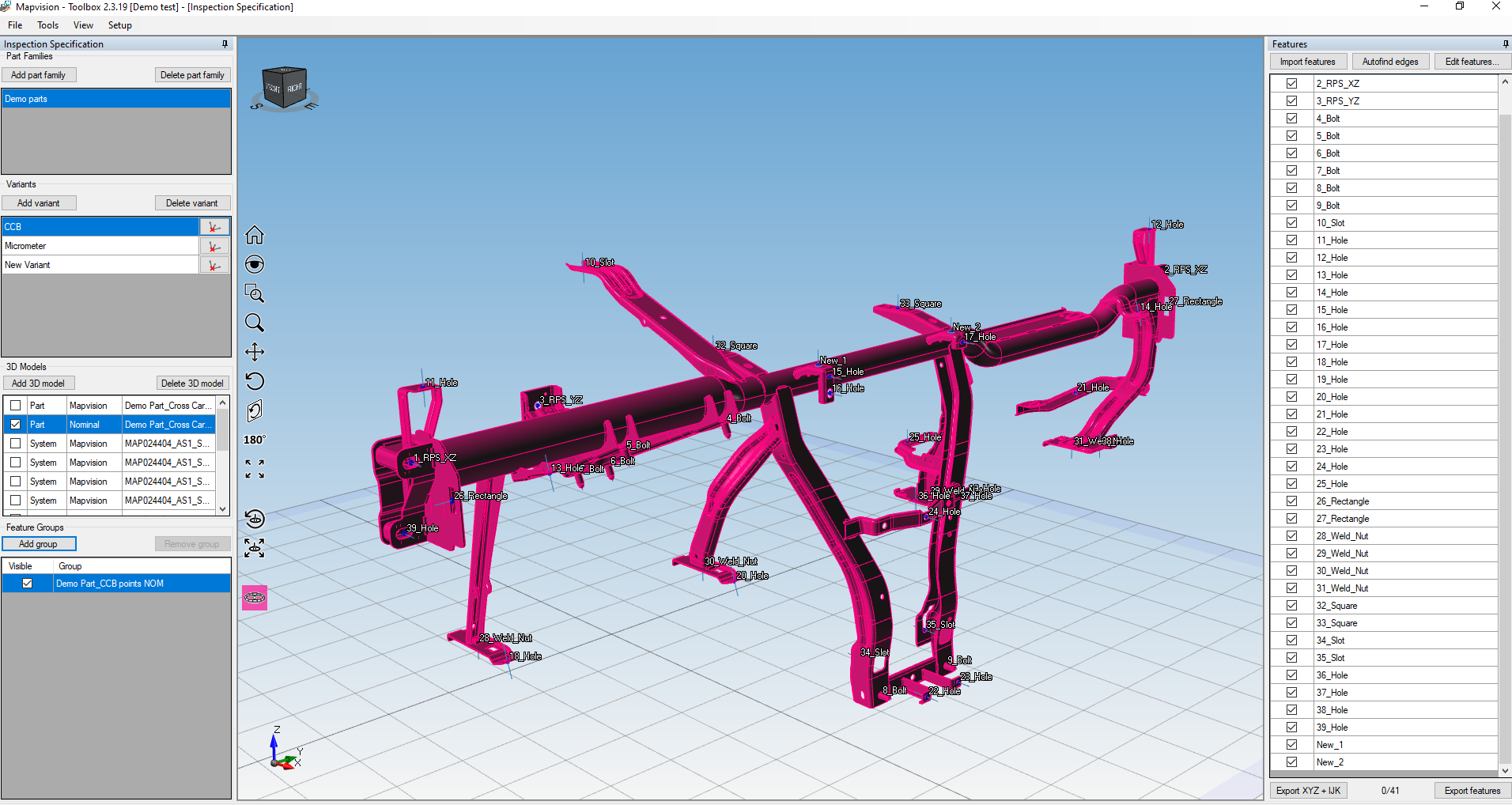 There are plenty of things to consider when optimizing and upgrading a production line. When you need to adjust or modify the measurement and inspection settings, Mapvision is naturally there for you. For support in optimizing your manufacturing line, you can select a Mapvision Care service program that suits you. For customers, who want to train their own teams to use the advanced capabilities of Mapvision Q, we provide smart, efficient and intuitive software tools.
Introducing Mapvision Editor Suite
Mapvision Editor Suite is the latest addition to the Mapvision software solutions for visualizing quality. It allows operators, quality managers and other dedicated Mapvision Q users make changes to the quality settings independently at the production site.
Those of our customers who have dedicated trained support personnel for the use of Mapvision Q inspection systems have requested possibilities to expand their capability to manage Mapvision equipment independently. Mapvision Editor Suite is the answer to those requests. With it, Mapvision Q users can respond to most common change requirements in their production lines.
With Mapvision Editor Suite, our customers can make adjustment to measurement parameters and inspection points. Mapvision Editor Suite also allows the addition of measurement features to the existent measurement programs. You can even perform reference updates.
Increased independency at the production site
Combining Mapvision Editor Suite with our new Mapvision Care service programs, Mapvision customers can modify measurement programs independently or with support from the Mapvision Service team. After the trainings, engineering changes and adjustments based on visual variations, and even complete reference updates can now be managed by the customer. This provides an alternative to the Mapvision Care remote support and allows the customers to update the measurement programs immediately after an engineering change request has been released. With a fully trained local service team using all the software capabilities at the premises, it is possible that only the annual calibration needs to be performed by Mapvision experts to ensure the accuracy and precision of the Mapvision Q system.
More programming flexibility
Mapvision Editor Suite enables customers to program the Mapvision Q system at the facility. It gives more control over the measurements and allows our customers to respond to changes in the production quickly. This in turn results in shorter response times and cost benefits.
Users can make modifications to measurement programs while the Mapvision Q system is running. New measurement program can be installed when it suits the production best, for example during shift changes. Everything can be done off-line, even with remote access.
User-friendly software interface for programming
For the Mapvision Editor Suite, we have developed a new easy-to-use interface for customer usage. Programming tasks, such as 3D programming for derivative features, have never been this simple. Just select a feature in the 3D-view, set tolerances and offsets and you are good to go.
The software is split into modules, which can be acquired separately or as packages (Standard, Extended, Advanced). You can always select the right set of features according to the needs of each system, the type of inspections and the measurement performed.
Trainings are included with all the Mapvision Editor Suite modules to boost the user proficiency and confidence with the software.
Interested? Contact our team to get your personal demo session of the software.