Joakim
Mapvisionary since 2015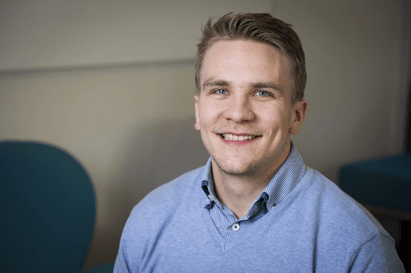 My name is Joakim Siirilä and I´m working as Product Manager at Mapvision. Mapvision is providing measurement and quality control systems into automotive industry and my job is to make sure that our product meets the customer needs and expectations.

I joined Mapvision in 2015 directly after I graduated from Aalto University, School of Engineering. In school my major was engineering materials and in practice I studied steel metallurgy and welding. I also studied production engineering, specialized in casting.

I applied to my job at Mapvision through formal path. I saw application online and applied. However, everything didn`t go as planned at first, as I got a call that I wasn`t selected for the job. Anyway, the reasons didn`t make sense to me and I gave a call back and apologized if I failed in the interview so bad that they got totally wrong impression of me. They felt that I showed some courage and "Never give up" attitude and invited me to another interview and obviously I prepared better etc. and got the job.

I remember hearing a lot while in school that all studies also outside your major are important and that has been true for me also. I my current job I´m not using my major studies everyday but all kinds of different skills from all my studies. Anyway, the cool thing is that I can use my knowledge from the school when discussing with our customers who are welding and casting car parts.

My advice for those still in school is that focus on what is interesting for you. However, remember that even the most boring classes usually are important and useful at some point in your career.