Emmi
Mapvisionary since 2019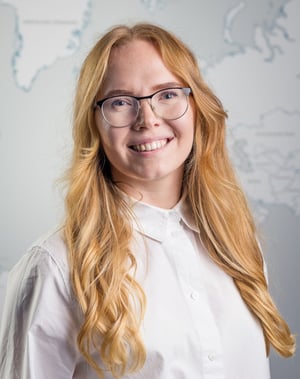 My name is Emmi Uotila and I work as an HR Specialist at Mapvision. I joined the company in summer 2019 as a summer trainee and dived into the world of human resources for the first time. I continued to work as an HR assistant part-time together with my studies from fall 2019 until September 2020. From October onwards I have been employed as an HR Specialist.
I am a recent graduate from Aalto University School of Business, where I major on the Master's level was Strategy. My Bachelor's degree is completed in International Business at the Aalto Mikkeli campus. During my studies, I also completed some courses on HR-related topics.

At Mapvision I am able to challenge myself with a wide variety of tasks. Our dynamic HR team consists only of two people, so there various projects and day-to-day tasks I am involved with. This is one of the key reasons why I enjoy working here. Most importantly, I cannot emphasize enough how awesome my colleagues are! I get to work with talented people on a daily basis and learn something new from them constantly! Our culture here is often described as open, warm, and flexible with low hierarchy. People are proud of their work and are happy to share their expertise with you.