Make Your Quality Data Visible with Mapvision Production Analytics Overview
Have you ever struggled with analyzing the production inspection data and reporting the production quality status in a clear, easy-to-read format? Now you can get monthly overview reports from Mapvision experts sent directly to you.
Mapvision Quality Gate inspection equipment collects huge amounts of visual quality data. It is understandable that analyzing the data and finding the essential bits for reporting can sometimes feel overwhelming. This is a need we have heard from several of our customers and we are now happy to introduce a new Production Analytics Overview service, where you can get the help of the Mapvision experts for creation of monthly production quality overview reports.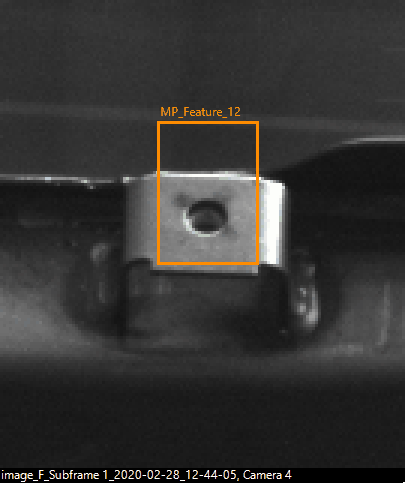 Order single reports or subscribe to a continuous service
You can order single reports for specific purposes or subscribe to a continuous service to receive a specialist-made production quality report on monthly basis.
With Mapvision Production Analytics Overview, you can have all the required data in one report. The report template is customizable so that we can create the right report to suit your needs whether be it a management review, quality audit or measuring system analysis.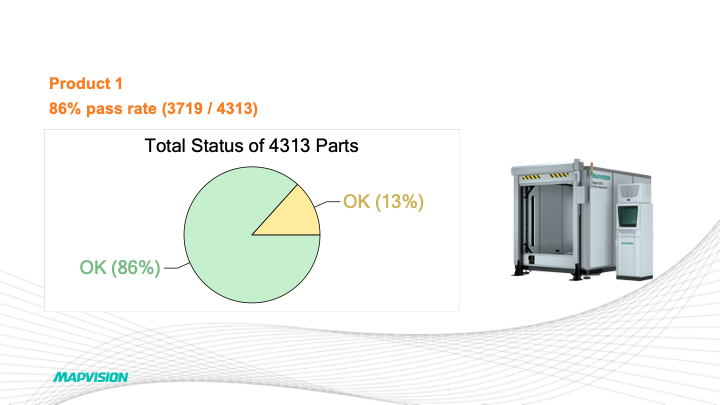 Customize the report parameters and features
When you order a Production Analytics Overview report from us, we will work together with you to pick the right template for your reporting needs and configure the reports with the right parameters. Regardless of whether you need a general overview of your production, a longer OK/NOK report of every feature or a more detailed report of only critical features, we have got you covered.
You can also define the format of the report and whether it is most useful to you as a PowerPoint presentation or a PDF document. Depending on the format, the report can contain e.g. images, animations, graphs and comments. The Mapvision Production Analytics Overview report can also include results from multiple Mapvision Quality Gate installations.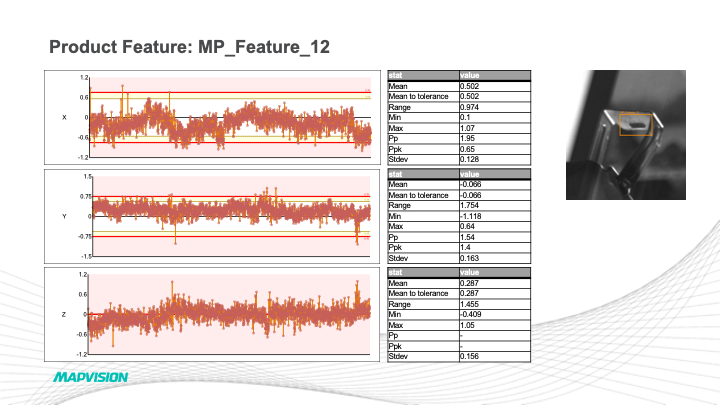 Contact us now to receive your free sample report!
To celebrate the launch of the new service, we are giving free sample reports to our customers. What better way to see how the new Mapvision Production Analytics Overview reports could help you in communicating the quality status of your production?
If you would like to receive sample report generated from your production data by the Mapvision experts, please contact by filling the form below.