Tailored to Your Needs: Introducing The New Mapvision Care Programs
Introducing the new Mapvision Care programs to better address your changing needs: Choose Mapvision Care Standard, Extended, or Light.
In a complex industry such as automotive, the service and support needs for the in-line systems change significantly depending on the production methods and the complexity of the part produced, as well as the maturity of the production line.
Having worked on a large variety of production lines and complex components with global clients, we at Mapvision understand our clients' different needs not only in terms of hardware and software but also service and support. Therefore, we have now tailored our service and support offering and are now happy to introduce new Mapvision Care programs.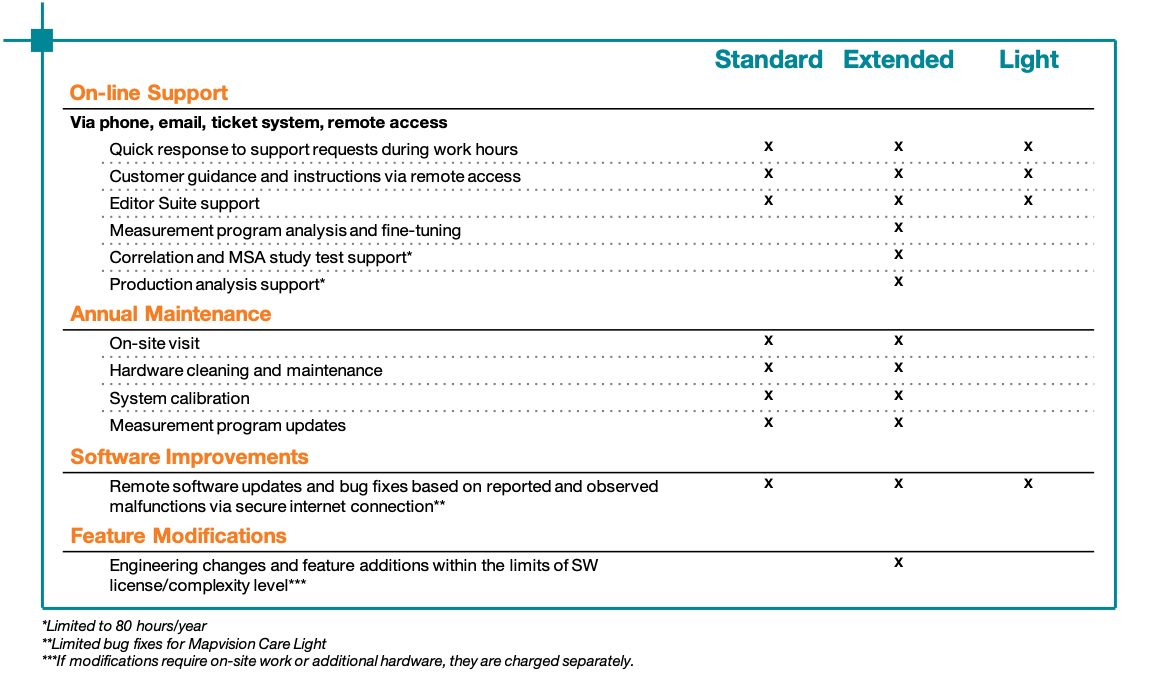 Mapvision Care Standard
While your Quality Gate system is designed for absolute robustness that does not compromise measurement accuracy and precision even in the case of camera failures, we strongly recommend our clients having an annual health check-up and system calibration for their Quality Gate system to prevent unwanted surprises and ensure operational stability. Especially the system calibration, as in other measurement equipment, forms the backbone of the accuracy and precision your measurement system delivers. Therefore, the Mapvision Care Standard package provides you a complete annual maintenance program that includes an on-site visit by one of our experts, system calibration, and hardware cleaning and maintenance in addition to online support and software updates.
Mapvision Care Extended
Mapvision Care Extended is formulated to address agility and early-stage production lines; providing coverage and extensive support for feature modifications and engineering changes without additional costs. Moreover, our team of experts provides you consultation and support on correlation and MSA study tests in addition to overall measurement program and production analysis. Other benefits include a complete annual on-site maintenance including annual system calibration and on-line support including remote analysis and support in urgent situations to help you take action without delay so that your production line can return to its standard operating procedure in no time.
Mapvision Care Light
Mapvision Care Light covers only phone and remote support via email or remote connection in addition to essential software updates and bug fixes. The Light package caters to clients who wish to handle the maintenance activities with their in-house maintenance team except for annual calibration. Therefore, it excludes the annual on-site maintenance service by a visiting Mapvision expert. The annual calibration to ensure the accuracy and precision of your Quality Gate system, however, still requires an on-site visit by a Mapvision expert. The calibration service can be purchased separately.
For clients who wish to build their in-house team of Mapvision System Managers to handle maintenance activities, we provide extensive training modules as a separate offering to make sure that your team is well equipped to handle the necessary activities with precision.
If you would like to establish your in-house maintenance team or want to learn more about the renewed Mapvision Care programs, simply contact us.
Want to learn more about the renewed Mapvision Care

service programs

?
Visit the Mapvision Care product page!
Published by
Pirita leads the service operations in Central and Western Europe. She has a natural passion to understand customers' needs and work together to find the most effective solutions to their problems. With a background in Material Science, Industrial Management, and Business Communications; she is definitely the person you would like to see alongside you when things go unexpectedly.